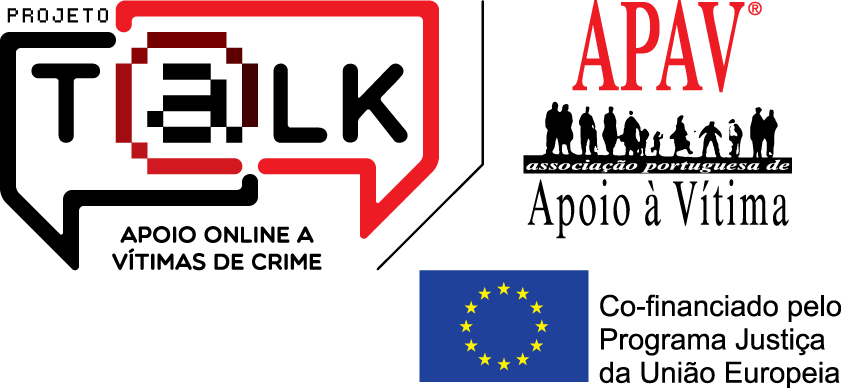 2016 | 2018
Projeto T@LK – apoio online para as vítimas de crime
Project T@LK - online support for victims of crime
Objectivo: desenvolver conhecimento sobre as possibilidades emergentes em termos de apoio à vítima online; adaptar os serviços de apoio à vítima às necessidades atuais das vítimas e às suas expetativas relativamente ao apoio à vítima; tornar os serviços de apoio à vítima acessíveis às vítimas que não têm possibilidade de aceder aos modelos tradicionais de prestação de serviços de apoio. Para que se atinjam os objetivos propostos, desenvolver-se-ão diversas atividades, designadamente: investigar e recolher os modelos de apoio online existentes, melhores práticas, os seus benefícios e aplicabilidade para o apoio á vítima; aplicar um questionário às organizações de apoio à vítima que já utilizam o apoio online sobre o apoio que disponibilizam e sobre se e como as ferramentas utilizadas são benéficas; produção de um manual de apoio online às vítimas de crime, fornecendo conselhos práticos e promovendo as melhores práticas; visita de estudo dos parceiros do projeto a uma organização-chave identificada como uma melhor prática neste âmbito; desenvolvimento de uma ferramenta de apoio online e sua implementação-piloto da nos países parceiros (Portugal, Malta, Lituânia e Finlândia); desenvolvimento de focus groups com vítimas de crime para aferir se as soluções e métodos desenvolvidos respondem às suas necessidades; desenvolvimento de procedimentos e orientações aos técnicos de apoio à vítima que prestam apoio através da ferramenta de apoio online criada; desenvolvimento de um curso de formação-piloto para os técnicos de apoio à vítima.
Parceiros Transnacionais: Victim Support Malta (Malta), Human Rights Monitoring Institute (Lituânia), Victim Support Finland (Finlândia)
Parceiros Associados: Catalan Victimology Society (Espanha); Victim Support Europe
Duração: 24 meses, com início a 4 de Janeiro de 2016
Projeto promovido pela Associação Portuguesa de Apoio à Vítima (APAV) e co-financiado pelo Programa Justiça da União Europeia
Objectives: to raise awareness about the soaring possibilities in terms of the online support for victims of crime; to adapt the victim support services towards the current needs and expectations of the victims; to make the services to support the victim more accessible for the victims that do not have access to the support services through a more traditional way.
To be able to reach the suggested objectives several activities will be developed, such as: research and the collection of information about the existing support models online, better practices, their benefits and suitability for the victim support; with the help of a questionnaire obtain information about what kind of support other victim support organizations, that already offer online support to their victims offer and what tools are being used to provide that support; create a handbook about the online support of victims of crime, to give practical advise and promote good practices; a field trip with the partners of the project to a key organization that is known for their best practices in this field; develop a tool for the online support and implement a pilot with the partner countries (Portugal, Malta, Lithuania and Finland); develop a focus group with victims of crime to assess if the solutions and methods used coincide to their needs; develop procedures and guidelines for the victim support professionals to be able to use an online support tool; develop a pilot training course for the victim support professionals.
Transnational partners: Victim Support Malta (Malta), Human Rights Monitoring Institute (Lithuania), Victim Support Finland (Finland)
Associate partners: Catalan Victimology Society (Spain); Victim Support Europe
Duration: 24 months, starting on January 4th 2016
Project promoted by the Portuguese Association for Victim Support (APAV) and co-financed by the Justice Programme of the European Union